Snapshot - a snapshot, a copy of files and directories all of your server at a particular point in time.
In the Snapshot section you have the option to run an Automatic or Manual backup of your system. You can also Restore site from an existing copy or Delete copies you don't need.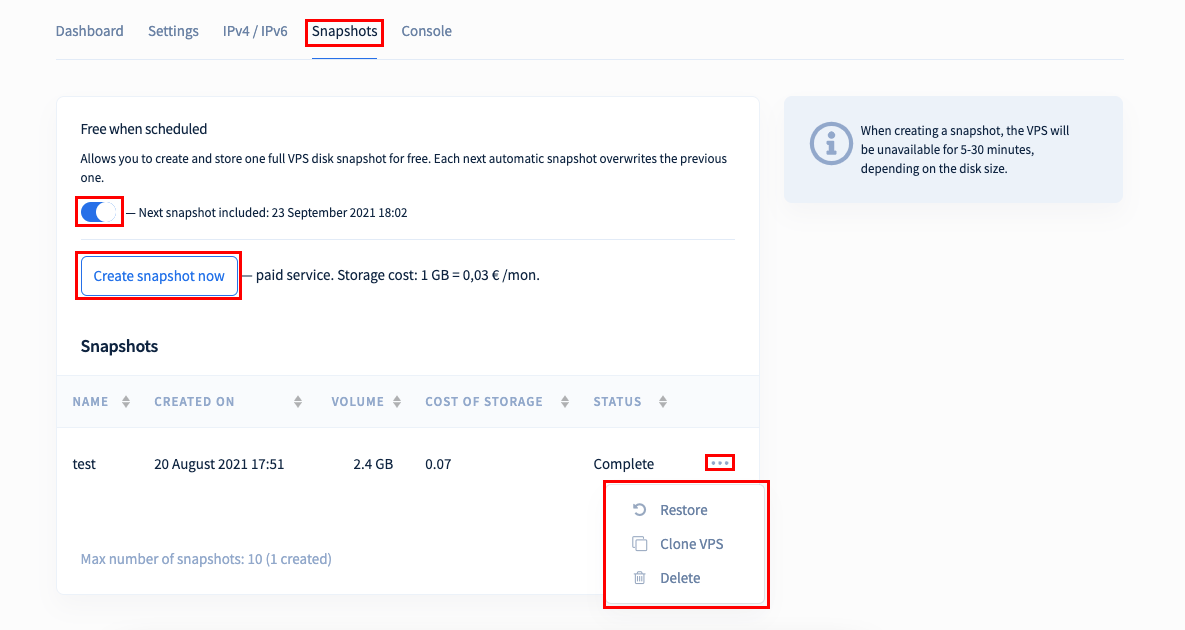 If you enable the Auto backup option, it will run once a week and the time to create it will be chosen by our system, it can be either daytime or nighttime
You will be given an approximate date and time when the procedure will start.
Automatic backups are stored for free.
If this does not suit you, you can back up manually by clicking Run Now.
The cost to store a 1GB backup is €0.03 per month. The total backup storage fee is billed at the beginning of the month. The size of each backup is taken into account
Calculation is based on the daily formula 0.03/31 * X GB.
There is no option to download Snapshot to your local computer.
At the moment of creating a backup, your VPS is turned off for a period of 5-30 minutes.
The time depends on the size of your virtual machine disk.
When restoring an order from Snapshot, the current order data will be overwritten and data from the Snapshot creation date will be restored.
---
If you have any difficulties or any additional questions, you can always contact our support via Ticket system.