We have two types of affiliate program:
Attracting new customers through an affiliate link;
Through the admitad.com system.
---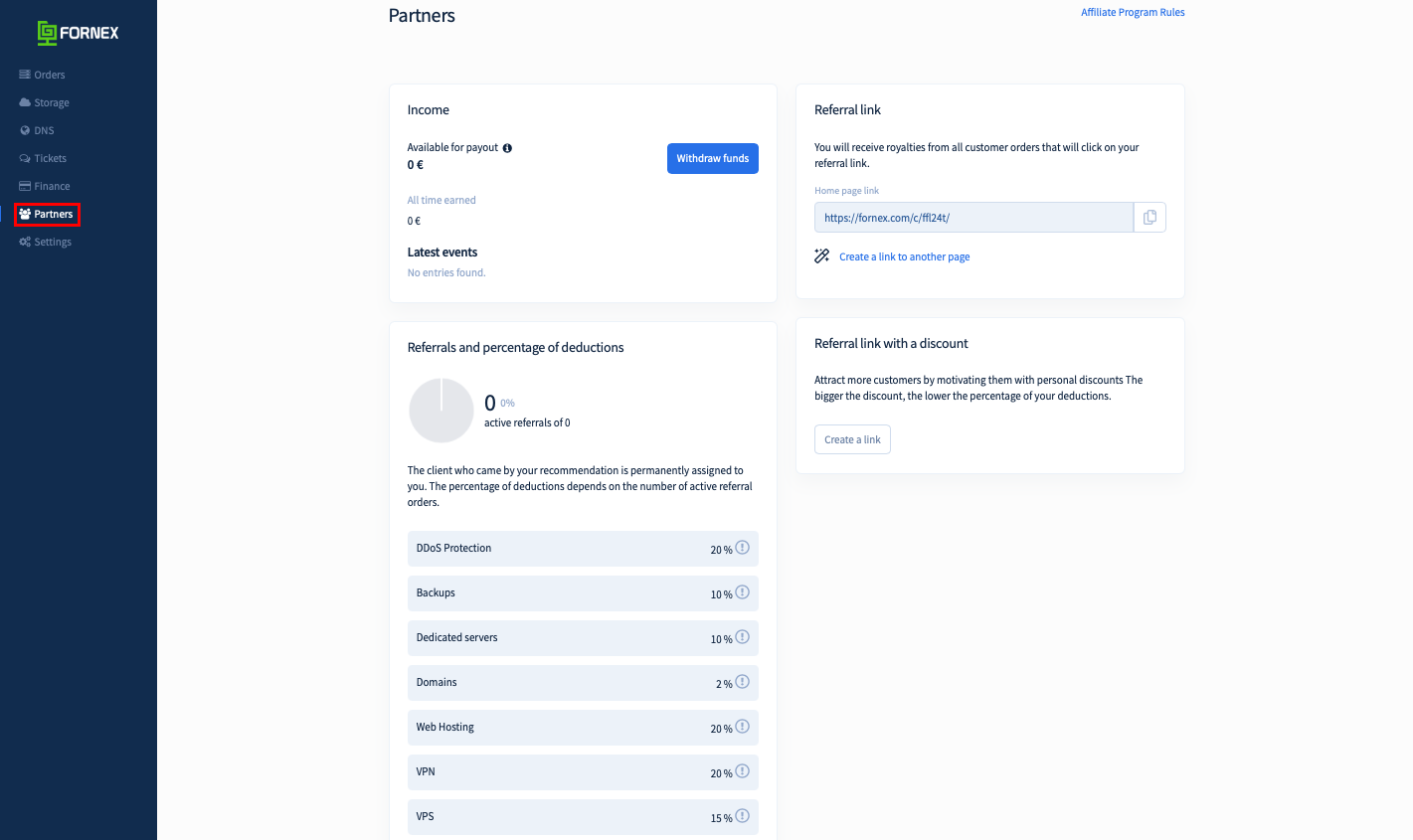 1. By referring new customers through Affiliate Program, you get up to 40% of all orders they pay for.
Your commission percentage directly depends on the number of active referral orders.
AntiDDoS - from 20% to 30%
Backups - 10% to 20%
Dedicated servers - 10% to 15%
Domains - 2% to 5%
Virtual hosting - 20% to 40%
VPN - 20% to 50%
VPS - 15% to 25%
You can generate a new affiliate link yourself. In this case, for all customers who will be registered through this link, you can provide a discount, but your profit (deductions) will be less by the size of this discount. You can choose which discount you want to give and for what type of service.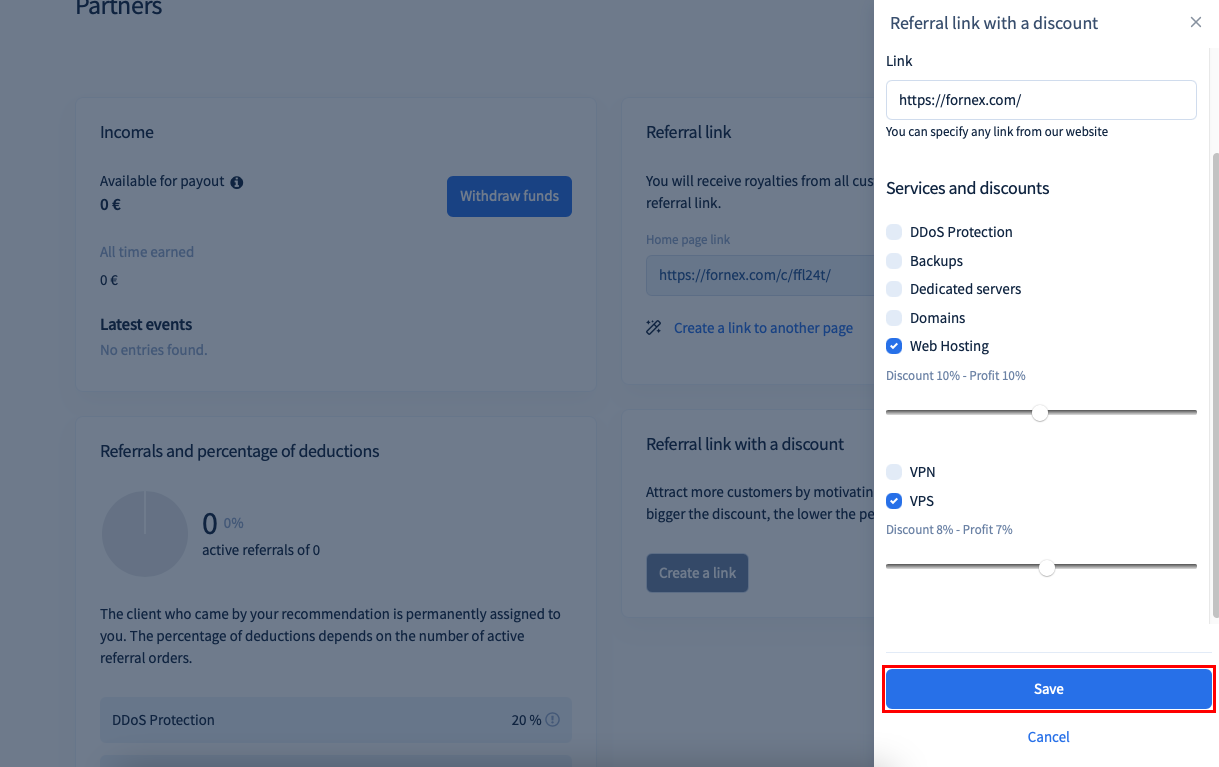 Here you can manage your deductions.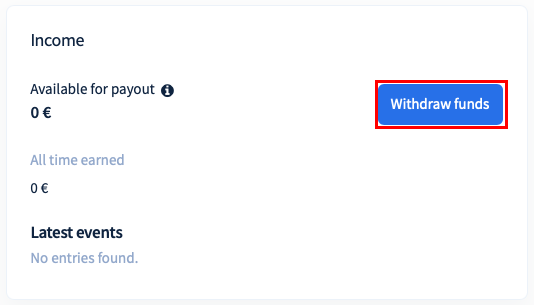 Withdraw funds to the internal balance of Fornex.
Or to the cryptocurrency USDT, for this specify a purse in the network TRC-20.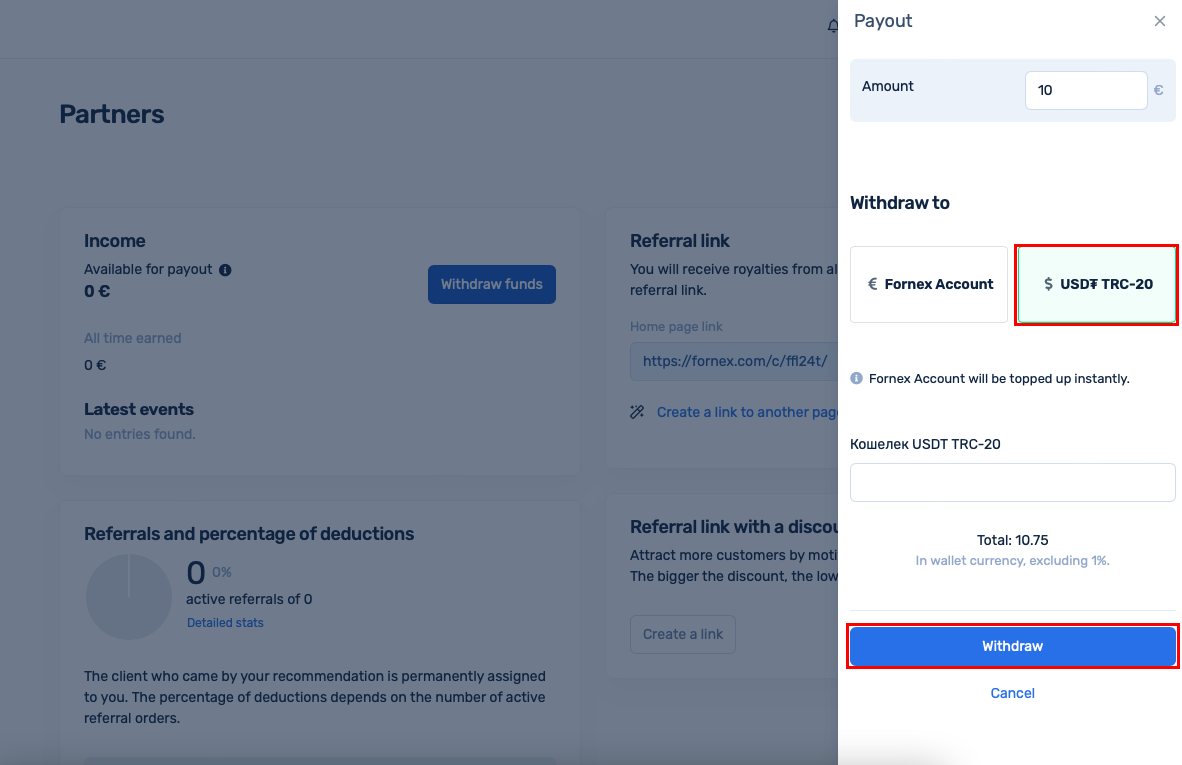 You also have the ability to view the activity of your referrals.
---
2. How to attract customers through admitad.com, you can see here.
Affiliate program rules.
It is forbidden to invite yourself (self-referral) through an affiliate link. The same applies to accounts that you register for your clients. The affiliate program is designed to attract new customers who know where their sites are located and pay for their own hosting. The affiliate program is not a discount system and such self-referral accounts will be detached from the inviting user;
We strictly prohibit advertising our services with spam;
We expressly forbid to advertise our services using our brand ("fornex"/"fornex") in search queries;
In 10 days after order payment by partner, you can transfer affiliate commission to balance or cryptocurrency USDT TRC-20, or order payment on Paypal or cryptocurrency BTC:
Withdrawal of funds to the balance is carried out instantly.
Other withdrawals are carried out every Monday, if the request was made before Thursday.
For now please make a request for withdrawal to Paypal or cryptocurrencies via our ticket system.
---
If you have any additional questions, you can always contact our support via system-tickets.