When you use the VPN service, you have the ability to manage your order through Billing:
The «Order» section provides basic information, access to it, also the possibility to extend the order.
«Information»
The Server Name, User Name and Password, Order Number and Deadline are specified.
Button «Extend order»
To do this, tick the checkbox of the order you are going to extend, specify the term for which you want to extend it and click «Pay».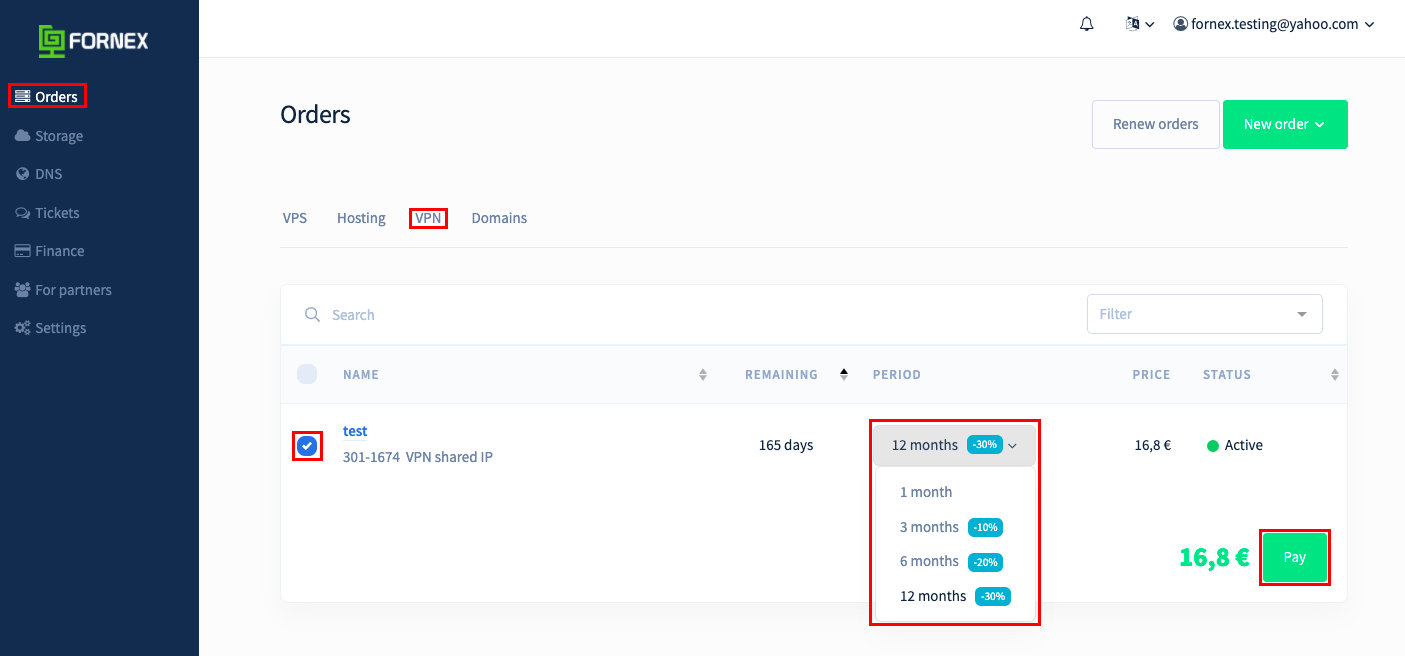 «OpenVPN Configuration»
Download the UDP or TCP connection configuration file for OpenVPN and use the Configuring VPN instructions;
We recommend to connect using the UDP protocol, as the speed of this protocol is several times faster than the TCP protocol. We recommend to use TCP connection if you have problems with UDP connection for any reason, which can be due to limitations of your Internet service provider.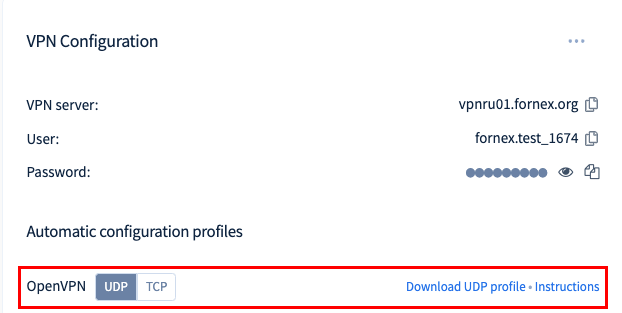 After you change the configuration, don't forget to download the appropriate configuration file.
Only one simultaneous connection is available when using OpenVPN.
«IKEv2 Configuration»
IKE (Internet Key Exchange) is a standard protocol in the IPsec (IP Security) protocol suite used for secure communication and data protection in virtual private networks.
Benefits of IKEv2:
Simplified messaging.
Enhanced reliability.
When using the ikev2 connection, only one active connection is possible.
«Proxy for Telegram»
Use a proxy for Telegram.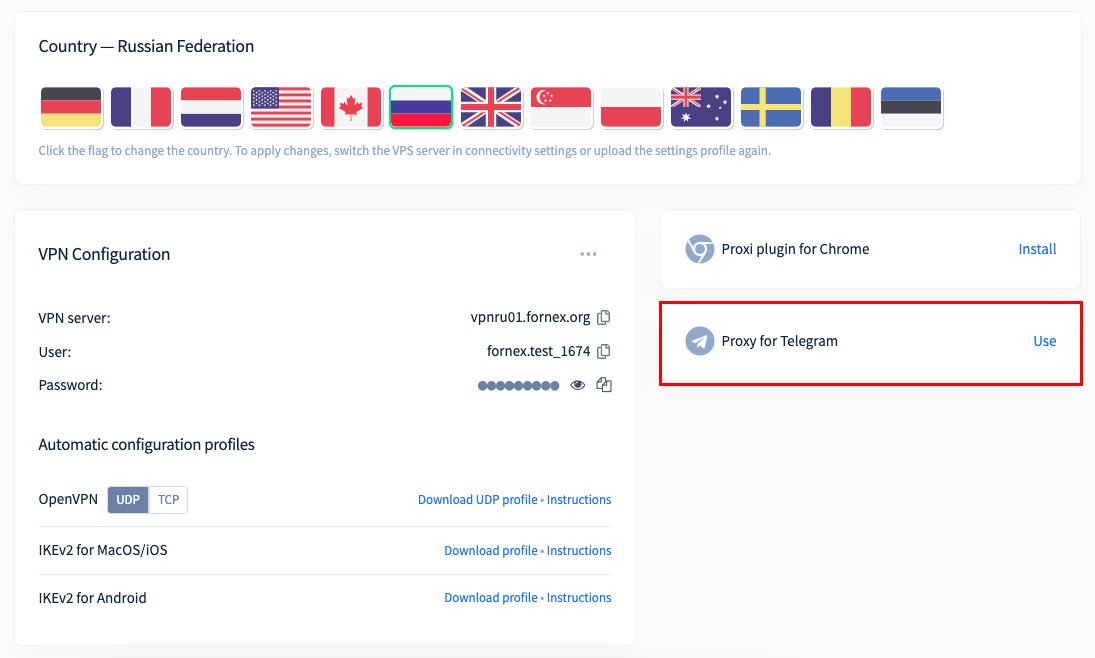 When using a proxy, there is no limit to the number of connections
«Change Country»
You have the ability to switch between locations (countries) in 2 clicks.
You can choose from 13 locations in these countries:
Germany
France
Netherlands
USA
Canada
Russia
UK
Singapore
Poland
Australia
Sweden
Romania
Estonia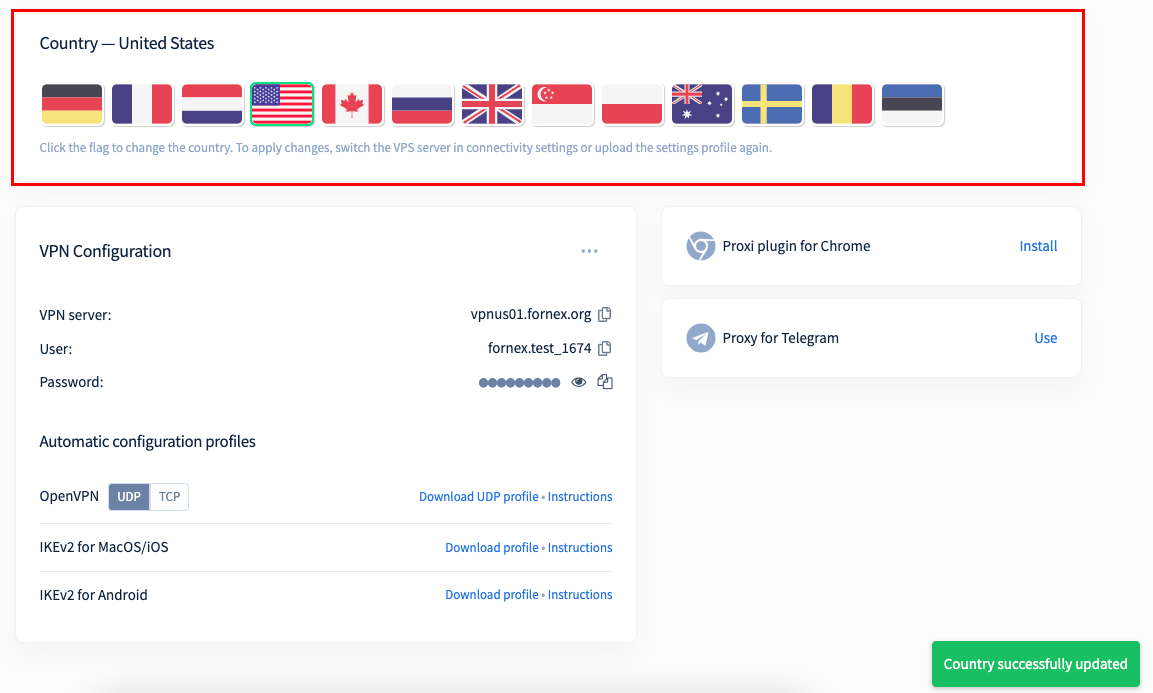 We recommend choosing locations that are closer to you. Since many ISPs have parity, better connectivity within the same continent, so the speeds will be higher.

The speed of the VPN connection channel is limited to 100 Mbit/s. But it can vary greatly, since it depends on many parameters, such as the connection protocol (OpenVPN, L2TP/IPsec, PPTP), the data transfer protocol (UDP / TCP). For maximum connection speed, we recommend using OpenVPN and the transfer protocol - UDP.
«Change password»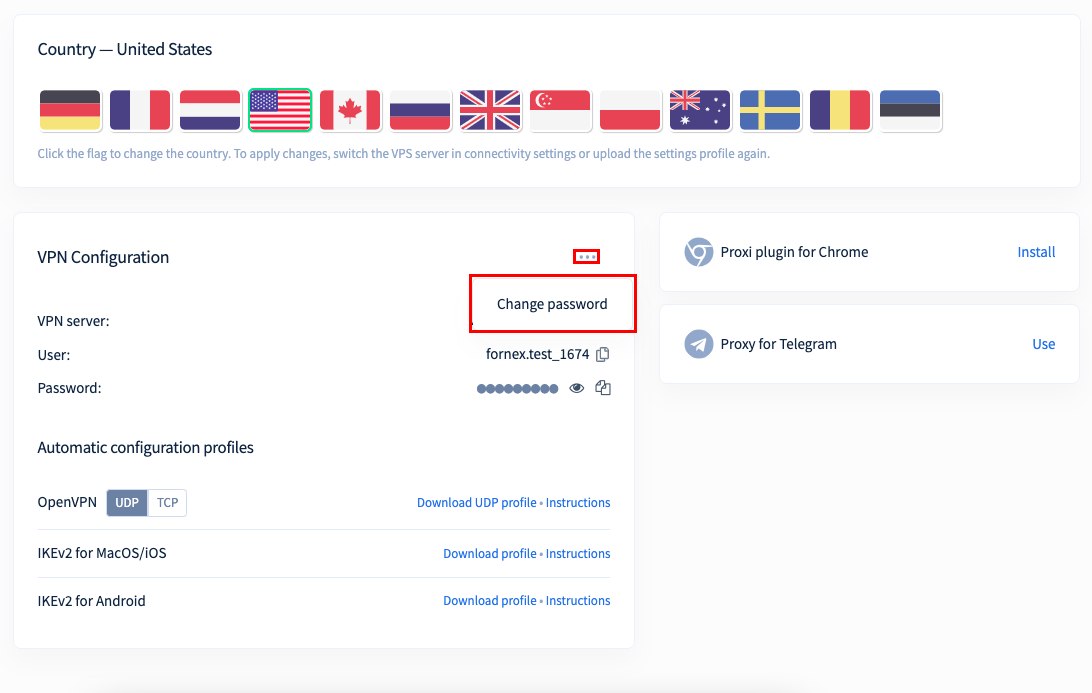 «Change VPN Name»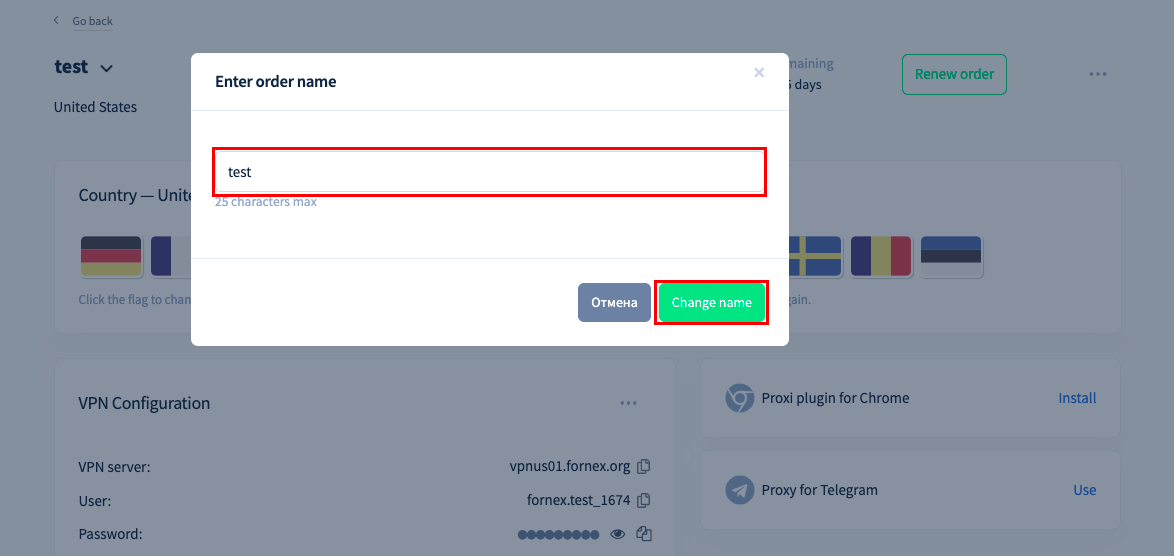 «Cancel order»
Under «Settings» you can cancel your order.
When cancelling your order, specify the reason and click «Cancel order»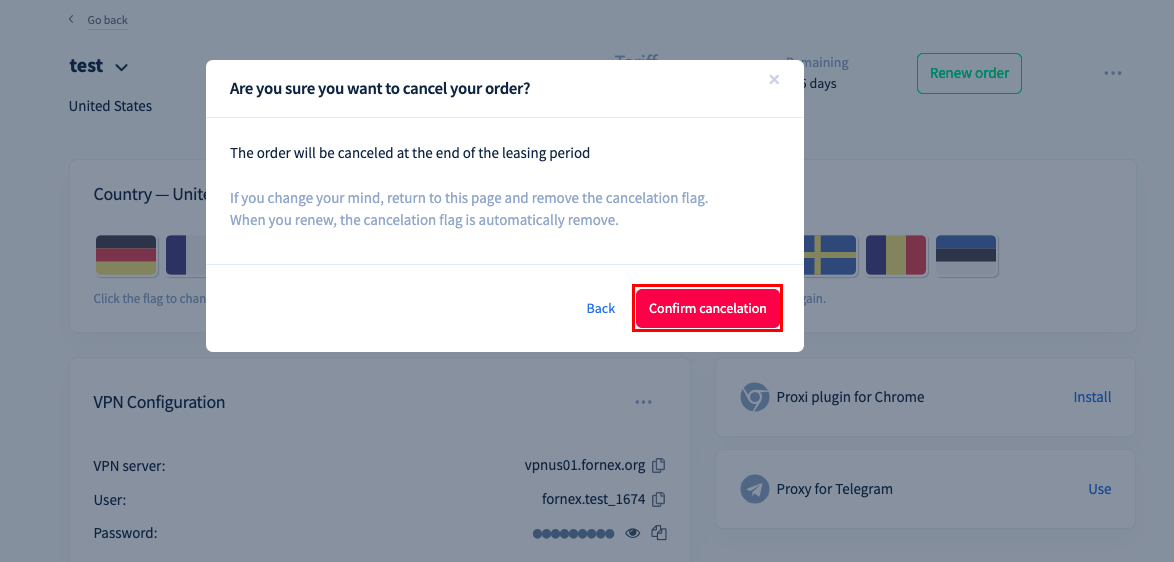 Also, you should understand that the «Cancel Order» button is not a physical cancellation of the service, but an option that disables Auto-Renewal if you have cash on your balance.
If you want to cancel the order completely and get back the balance of money for unused days, in this case you need to contact our support service through Ticket system.
---
If you have any difficulties or additional questions, you can always contact our support team via Ticket system.